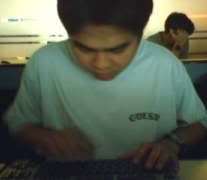 Dar started training in Etelecare last January in Eastwood. For a while, I was doing okay with it because his schedule was 9am to 6pm. He could bring me to the office in the morning, then pick me up if I decide to stay after 5.
But then his schedule shifted to 6am to 3pm. Ang haggard! For him, and for me as well. I was left to attend to Darice in the morning to prepare her for school. I started being late for work because of it!
Then Dar was transferred to Makati! By the time Dar goes home, after he attends to his Ragnarok bots, he'd be tired and sleepy na. Also, they've been staying at work after 3pm. He usually takes calls during the first 4 hours, then training na. He usually gets to pick me up na from work, pero he picks me up with his officemates in tow so I can't really talk to him on the way home, because nagkukulitan lang silang tatlo. Haaay.
Sabi ko nga ba na na when he starts to work for a call center eh mas lalong mahihirapan kaming mag-*connect*. Good thing we had that
surreal weekend
, kasi I have something to hold on to.
Aargh, pano na yan kung graveyard shift na sya??? :(