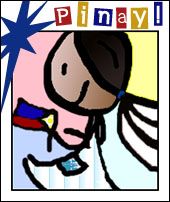 The first time I learned about this was through
Ramil
. He searched for the keyword
Filipina
and got these
results
. Tsk tsk. Hanubayan.
And it's now a full-blown campaign to
link the word "Filipina" to URLs and permalinks to each others' blog posts that describe women of the Philippines as "excellent, smart and tenacious."
[
Global Voices Online
] Thanks to
Drakulita
and
Jonas Diego
, the campaign also has its own logos.
To contribute to this campaign, I added "
Yan ang Pinay
" links to my sidebar. These are the sites that we want to show up first on the list when somebody googles the word Filipina. We are more than mail-order brides or penpals. These sites, especially those from bloggers, describes the Filipina as "
excellent, smart and tenacious
".
I hope my little contribution helps. I'm planning to write a post about what it means to be a Filipina, but I don't have the time yet or the creative juices flowing as of now to write something coherent. I want to write a particularly inspired post about being a Filipina, not just a few bumbling words.
Let's all do something for this movement. Mabuhay ang
Filipina
! ^_^