Snorkeling
Manong from the resort arranged the snorkeling trip for us on our second day at Bantayan Island. Rent for the boat was 800 pesos, then it was another 360 peosos for 4 sets of snorkeling masks and life vests.
The boatman sailed towards the other side of Bantayan Island, to a small island around 20-25 minutes from the resort. After putting on our vests and masks, we jumped off the boat and explored the marine life of the Visayan sea.
The first thing you'll notice when you put your face underwater are these jellyfish-like creatures without tentacles floating in front of you. They were small, white and translucent, with the body resembling that of a bouganvilla flower (I miss having
Tonton
as our underwater photographer!!! Ang hirap idescribe ng sea creature na ito!) and they were EVERYWHERE! Manong boatman said they were jellyfishes too but they don't sting.
Siguro naman since dinala nya kami don diba?
Ehehehe.
There were fishies too, but not as much as I saw during our snorkeling trip in Galera. And we didn't have bread to feed the fishies
so di kami masyado close
. Cool sea creatures I saw were two huge blue starfishes hiding under some rocks/corals. Water was not really that deep because I got a few minor cuts on my feet from bumping into corals.
The hardest part about this was going back to the boat!!! And going back INSIDE the boat... Manong boatman only had a pieace of wood that hangs over the side of the boat to serve as a "step". Then it was all about my lower body strength as I tried to haul myself back into the boat.
Nag-sorry talaga ako kay Manong kasi naramdaman ko na nahirapan talaga sya sakin.
Haha.
Town Tour
It was a 20-25 minute trisikad ride to the town proper of Bantayan. Our first agenda was the church, of course. Sts. Peter and Paul Parish Church is four centuries old, and the first to be built by the Spaniards outside Cebu. [
Source
]
There was a museum next to the church, sadly, it was already closed.
Then we were off to the market, looking for chips and drinks. And some interesting souvenirs, if ever there was any. There were lots of dried fish already being sold there, but we planned to buy them already in Cebu city. We were able to buy chips, though, for our planned drinking session that night.
For souvenirs, our "tour guides" [two pedicab drivers who got us the trisikad] brought us to a small store near the plaza, and also a few meters from the church. I was able to buy an Island Souvenirs t-shirt, and Marjay was able to buy a silkscreened shirt for a cheaper price.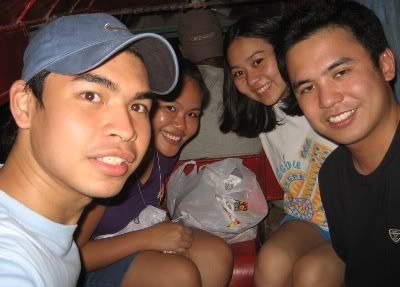 It was already dark when we set out back to the resort. Kinda creepy kasi ang dadaanan namin mejo isolated and puro grass... we even passed by a cemetery!!! So we just amused ourselves by taking pictures of us. Heheh. Marjay even ventured to take a picture of the "darkness" outside hahahaha. But he quickly deleted them too, afraid of what he might see in those pictures hehe.
We still didn't have drinks for our drinking session that night, so we passed by a small grocery store first, which was just a few minutes away from the resort.
And lookee who we found:
Hehehehe. Since we didn't really want to get hammered that night, we passed on El Hombre and just bought rum and Coke, and a bottle each of San Mig Light.
We didn't even venture out of the resort for our drinking session, no? We were so spoiled na kasi by the resort eh, hehehe.
---
I know, I know, we could've done more in Bantayan Island. We didn't go to the Portuguese restaurant that Anton recommended, and even the trysikad and pedicab drivers were recommending.
Oooh, and the Ogtong caves!
And of course, resort-hopping :)
At least I still have something to look forward to when I return to this beautiful island, right? :)
---
Related posts:
Cebu, Part I: The Trip to Bantayan Island
Cebu, Part II: Kota Beach Resort