I'm coming out of my blogging hiatus.
For Kris Allen.
How can you not vote for this?
Or this?
At kamusta naman ang
bromance with Adam
?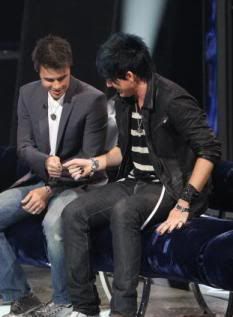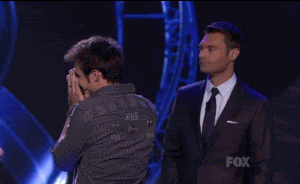 Argh. So adorable.
Once more, with feeling:
I love it that both Adam and Kris made it to the finals. If I could vote on Wednesday morning, I'd vote for both.
But if I only had one call to make, I'd make the call to Kris' number :)
Want more reasons to vote for Kris?
Here's 25 reasons
.
Here's a site devoted to Kris
. They have instructions on how to do power voting for Kris, even if you're not in the US!
And to remind you what Kris is all about, it's taking a song, and then he rearranges it, reengineers it, reboots it (wala lang, uso yang word na yan ngayon because of the Star Trek movie heh) and then POW, he makes it his own. That's why I'm ending this post with Heartless -- it's the heart and soul of what Kris has been doing all season long in Idol.
Dancing Kris Allen GIFS from here.
Bromance images from here.