I already talked about
the new seasons of the CSI franchise
and
of Numb3rs
and so now we move on to three completely different shows debuting this season.
Let's start with:
Studio 60 on the Sunset Strip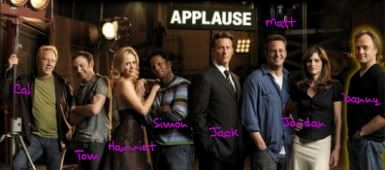 Yes, the title is a tongue twister, no?
This is the highly-anticipated series from
Aaron Sorkin
, creator of
The West Wing
and
Sports Night
. Sports Night was a behind-the-scenes look on a sports news show, while The West Wing was about the White House. This time around, Aaron Sorkin goes behind the scenes of a fictional comedy show ala Saturday Night Live called Studio 60 on the Sunset Strip.
The show's premiere starts with the Studio 60 producer Wes Mendell, played by
Judd Hirsch
(also of Numb3rs), disrupting a live show and ranting on-air on how TV sucks (well, in a nutshell).
Jack Rudolph
(
Steven Weber
), the chairman of NBS (Studio 60's network), of course, fires Wes, and grudgingly accepts
Jordan McDeere
's (
Amanda Peet
) decision as the new president of NBS, to hire back
Matt Albie
(
Matthew Perry
) as head writer and
Danny Trip
(
Bradley Whitford
) as producer of the show.
We meet the Big Three (or the stars) of Studio 60:
Harriet Hayes
(
Sarah Paulson
) [who is the ex-girlfriend of Matt Albie, of course providing some of the tension in the show],
Simon Stiles
(
D.L. Hughley
) and
Tom Jeter
(
Nathan Corddry
), and they're kinda confused on the direction of the show after Wes is fired.
And of course there's
Cal Shanley
(
Timothy Busfield
), the control room director of Studio 60, who let Wes rant and rant and rant on-air for 53 seconds. The censor guy (this is the same guy who Wes had a few words with before going on his on-air rant) was already telling Cal to cut the feed but Cal stood his ground.
I would just have to say, that the first and last part of the pilot gave me goosebumps. Wes' monologue was incredible, and the chaos in the control room while Wes was doing his speech was crazy! Then the last part, when Matt and Danny talk about accepting the offers to them, with
Queen and Bowie's Under Pressure
playing in the background -- aaack, thinking about it is just giving me goosebumps again! Yes, I fell head over heels in love with the show.
Of course, one of the reasons I'm rooting for this show is Matthew Perry. His Chandler sarcasm is back, but there's a dark edge to it that I don't think Chandler has. Dare I say sexy?!? Hahaha.
And since Studio 60 the comedy show has a guest host and musical guest, they show up in the series too! :) First there was Felicity Huffman, then Rob Reiner, and recently Lauren Graham. For the pilot there was Three 6 Mafia, and just recently Sting (!!!!!!).
There have been
news that Studio 60 was getting the axe
(because ratings have been exponentially decreasing). But!!! But,
three new episodes have been ordered
, and so, this show is still alive and kicking. I'm crossing my fingers they get a full season! :)
---
I'm splitting this up again. I was going to do one post for all three shows but,
ang hirap pala
! Hehe.
New show up for review will be Six Degrees. Again, stay tuned!
---
Related posts:
Part I
Part II