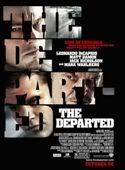 Like the other
Scorsese
films I've already watched (
Raging Bull
,
Cape Fear
,
Casino
and
Gangs of New York
), the newly released
The Departed
was bloody violent, wallowing in foul words hurled every three minutes (but if
Mark Wahlberg
's character is on-screen, then make that every three seconds), and utterly depressing -- my most important indicator that a movie was worth every peso.
*whispers* The following paragraphs may be spoiler-ish.
The movie is basically about leading double lives. We first have Billy Costigan, played by
Leonardo DiCaprio
, with his criminal family history "ruining" his chances to be part of the State police. However, because of his family history, he is asked to go undercover (by Mark Wahlberg's Dignam and Martin Sheen's Queenan) and infiltrate the Irish mob led by Frank Costello, played by Jack Nicholson.
Frank Costello, on the other hand, has Colin Sullivan infiltrate the State Police. While Billy was chewed out by Dignam and Queenan, Sullivan was highly lauded and then promoted to detective.
So goes the rest of the movie, with Billy the good guy trying to be the bad guy, and Colin the bad guy trying to be the good guy, with the lies and deceit and complications they have to go through just to make themselves look like wolves in sheep's clothing, or in Billy's case, a sheep in wolf's clothing.
I highly commend Matt Damon's acting in this movie because I totally hated his character! And it's totally impossible to hate Matt Damon's cuteness right? (Especially after watching
Stuck on You
hehehe) And although Leo's character was rough-and-tough, I can't help but think of offering him a warm *wink* and cozy *wink* place to stay for the night.
Another actor to watch out for in this movie is Mark Wahlberg! Man, I think if he had more scenes, he could've stolen the show. If you're having a drinking game while watching this movie, better do it while Mark Wahlberg has a scene, then have a shot every time he says a cuss word -- you'll be KOd in no time!
One of the nail-biting scenes I loved was with Billy on the roof top with Queenan -- better not eat spaghetti before, during or after that scene. Another favorite is the moviehouse scene [where Costello whips out a "hotdog" hihihihihi but that wasn't what made the scene nailbiting] and Billy almost finds out who the mole/rat was. Oooh, and the one where Billy discovers the envelopes which proves who the mole/rat really is!!! Aaaah, just thinking about is giving me goose bumps right now. One more scene where you shouldn't blink is another rooftop scene towards the end, when Billy and Colin finally meet.
As in, walang kukurap ha!
Yes, I loved the movie, and I'm willing to watch this again on DVD. Just to see Dignam cuss, or Colin be such a rat, and Billy go down the depths of underground hell.
---
P.S. Long review ain't it? Haha. I just wanted to redeem myself after posting a review of the movie First Day High. Hehe.

P.P.S. I've missed you, blog!