The last one for the series!
I've already written about the
CSI franchise
,
Numb3rs
,
Studio 60 on the Sunset Strip
and
Six Degrees
. This last show I'm going to review/write about is one of the successful new shows this season. Produced by Salma Hayek, it is reported that ABC now has ordered one full season! Yey!
Ugly Betty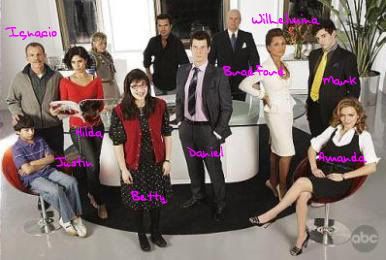 I was excited as hell already
last July when I learned that there was going to be an American version of Betty La Fea, that tagalized Colombian (?) soap I watched during my college days.
Oo na, oo na, jologs na kung jologs, pero nakakatuwa kasi talaga eh, and can relate ako kay Betty so there :P
Many have compared this show to the recently shown movie
The Devil Wears Prada
. Since I haven't watched the movie (yeah, so sue me), I can't really compare -- I just know the heroine in the movie also worked for a magazine, and I guess she also felt out of place for a while.
Same for
Betty
-- a homely (read: unattractive) girl, with bushy eyebrows, frizzy hair and braces, and
mejo
chubby (
mejo
being the operative word here), working in the glamorous world of magazine publishing. Surrounded by lithe bodies (and that's just the receptionist and a personal assistant
ha
) and fashionable people, she really looks like a fish out of water.
She is hired
Bradford Meade
, owner of Meade Publishing, to be the assistant (read: secretary) of
Daniel Meade
, his son, the newly appointed editor-in-chief of Mode, a women's magazine (ala Cosmopolitan?) under the publishing firm. Daniel has a "hard" time with his assistants, so his dad hired a non-model look-a-like so that Daniel will not try to bed her, and so that he won't get distracted with running Mode.
Daniel has issues -- he has to prove himself to his father, that he can run Mode, and that he can do a better job than his dead brother. Bradford has issues too -- looks like he knows some behind-the-scenes info regarding the death of the former editor-in-chief of Mode,
Fey Sommers
.
Betty made enemies as soon as she is hired:
Amanda
the receptionist and
Marc
the personal assistant. Marc works for
Wilhelmina
, the creative director of Mode, who was expecting to be the editor-in-chief. Therefore, she holds a big grudge against Daniel, because she thinks she's more deserving to be next in line as editor-in-chief. She also makes Betty's life in Mode very difficult.
Although Mode life can be hell for Betty, when she goes home, she has her father
Ignacio
to remind her about real beauty being skin deep, her sister
Hilda
who helps her with her confidence, and her nephew
Justin
who is so excited for her job at Mode.
There are a host of other characters in this show, and the descriptions above of the characters I mentioned are already oh-so-simplified -- they have far richer personalities and involvements in Betty's life :)
I love this show because after watching the suspenseful CSI franchise and geeky Numb3rs, and after the drama of Six Degrees and Studio 60, I have Ugly Betty to give me a few laughs and that warm fuzzy feeling in my heart.
Naks
. Haha.
---
For more information on the shows I'm watching:
CSI Franchise
The official sites:
CSI
CSI: Miami
CSI: NY
For episode spoilers and recaps:
CSI Files
Numb3rs
Official site of Numb3rs
Episode list and recaps:
Numb3rs on TV.com
Studio 60 on the Sunset Strip
Official site of Studio 60
Episode list and recaps:
Studio 60 on TV.com
For snarky recaps:
Studio 60 on Television Without Pity
Six Degrees
Official site of Six Degrees
Episode list and recaps:
Six Degrees on TV.com
For snarky recaps:
Six Degrees on Television Without Pity
(but the site discontinued the series... first indicator this show is about to go down? Tsk.)
Ugly Betty
Official site of Ugly Betty
Betty Suarez' own site
Episode list and recaps:
Ugly Betty on TV.com
For snarky recaps:
Ugly Betty on Television Without Pity
---
And the series is done! I hope I've converted some of my readers out there to watch these shows. Especially Studio 60 and Six Degrees as they are dangerously close to be being canceled. They're really good shows I promise! :)
I'm off to watch TV. Toodles!
---
Related posts:
Part I
Part II
Part III
IV